Keeping up with the regularly scheduled maintenance required for your vehicle is incredibly important. Adhering to this schedule diligently can result in huge savings for you in the long run. You can find this information for the specific make and model of your car in the owner's manual or on the manufacturer's website. Our certified technicians here at Parks Ford of Wesley Chapel are expertly trained to handle all of your servicing needs. Whether you require an oil change or a part replacement, we have you covered. Our team has been serving the community of Wesley Chapel and the surrounding areas for over 30 years, and we take an extreme amount of pride in being able to assist our customers swiftly and professionally. So if you require any service on your car, truck, or SUV, feel free to give us a call at 800-409-3063 and speak to one of our technicians about scheduling an appointment, or if you'd rather not call, then you can easily schedule and appointment online. Some of services that we provide are oil changes, brake replacements, tire rotations, brake replacements, multi-point inspections, battery tests, filter replacements and auto-glass repair.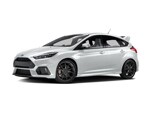 We Do Bodywork Too
Even if you're the most cautious driver in the world, there are still tons of careless drivers out there that can leave you with stubborn dents and dings in your car, truck or SUV. So if you're looking for somewhere to get exterior bodywork done in the greater Tampa or Zephyrhills area, then we have you covered at Parks Ford of Wesley Chapel. And if you should find yourself unfortunately needing a more extensive repair for a fender bender or from a major accident, our technicians are more than capable to get your vehicle back in tip-top shape.
We know how important it is when you bring your car in for repairs and servicing to get your vehicle back in a timely fashion. So we will do our best to work diligently on your car, truck or SUV while it is in our care. We are also running service specials constantly. So be sure to drop by our specials page to see if any of our current deals may be beneficial to you. Should you find yourself in need of parts, accessories, bodywork, routine maintenance or repairs, come pay us a visit at 28739 State Road 54 in Wesley Chapel, Florida 33543.